London Calling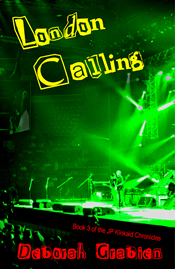 JP Kinkaid Chronicles - Book 3
Order now!
Book Three of The Kinkaid Chronicles takes JP and Bree first to London for their honeymoon, and then to the Cannes Film Festival - and leaves their happiness and safety in danger from unfinished business.
A quarter-century ago, legendary director Sir Cedric Parmeley filmed a documentary about three bands, called Playing in the Dark. One of those bands was Blacklight. At the time, Blacklight refused permission for Parmeley to release it. Now living in the South of France, Parmeley has edited the film and gained approval. All three bands have agreed to play a promotional concert at the Roman amphitheatre at Frejus, near Cannes.
But when the film the band screens before the concert turns out to be different from the version they approved, all hell breaks loose. When Parmeley tries to rape Blacklight guitarist Luke Hedley's teenaged daughter, lead singer Mac Sharpe's Jamaican bodyguard, Domitra Calley, prevents it. Parmeley's two bodyguards step in - and make it clear that there are old, ugly race issues at work in beautiful Provence.
The night of the screening, Parmeley's villa is blown sky-high. When Domitra and Bree are arrested, JP makes a frantic call to detective Patrick Ormand - now working for San Francisco Homicide - to ask for help with a problem that's beginning to look like an international terrorist conspiracy. What JP doesn't know is that they're about to flush a ghost from Patrick's own past. And Patrick's obsession is going to put Dom and Bree in the sights of a sniper's rifle, on the red-carpeted steps at Cannes.
Apart from giving us firsthand detail without being maudlin or off-putting on what it's like to live with multiple sclerosis, Grabien writes JP Kinkaid's fears, regrets, observations, revelations, and deep affections as though she is channeling him...If you wanted to pick up London Calling — the third and my favorite in a favorite series so far — and read it first, you can. It won't matter, because once you're hooked on one, you'll want to read all the others, anyway.