While My Guitar Gently Weeps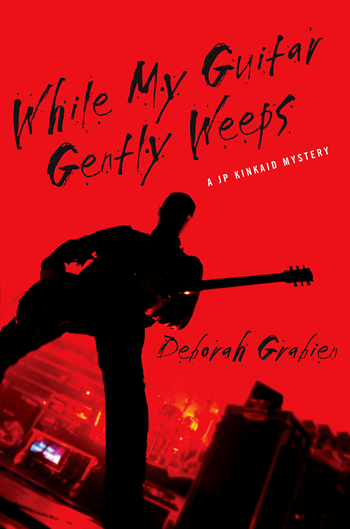 JP Kinkaid Chronicles - Book 2
While My Guitar Gently Weeps opens with Blacklight guitarist JP Kinkaid at home in San Francisco, and engaged to his long-time lover, Bree Godwin. Blacklight's tour has been rough on JP; a heart attack in Boston and a significant ramp-up of his multiple sclerosis have left him more physically fragile than usual.
With the tour over, JP is relaxing by sitting in as second guitarist for a new CD by his longtime local friends, the Bombardiers. The Bombardiers are breaking in a new frontman, singer-guitarist Vinny Fabiano. Self-absorbed and abrasive, Vinny is new to the Bay Area music scene; all anyone seems to really know about him is that he has some very expensive instruments, and no obvious source of income to pay for them.
A few weeks into the sessions, Vinny is found dead in the Bombardiers' San Francisco rehearsal space, smashed over the head with a custom guitar. The murder leaves the Bombardiers - already in hot water with their record label - without a singer or a regular guitar player. JP, calling in a favour, asks Blacklight's legendary frontman, Malcolm "Mac" Sharpe, to step in and sub for Vinny.
But Vinny's cousin and guitar tech is found murdered in Marin County, and Vinny's most valuable guitar - a $75,000 custom Zemaitis pearl-top - has disappeared.
"In Grabien's diverting second mystery to feature witty Brit rock musician JP Kincaid (after 2008's Rock and Roll Never Forgets), someone bashes in the head of vocalist Vinny Fabiano with Vinny's own guitar in a San Francisco rehearsal hall. While no one's shedding a lot of tears for the loutish Vinny, who'd recently insulted Bree Godwin, JP's old lady, JP and Bree still want to know what idiot would use a guitar custom-made by luthier Bruno Baines as a murder weapon. Missing from Vinny's stash after the murder is his fabulous pearl-top Zemaitis guitar, similar to one stolen from the Rolling Stones' Ron Wood. JP's perky narration and his love for Bree keep the pages turning."

- Publishers Weekly

Everybody knows there are dirty goings-on in the world of rock music, but nobody has ever captured them as excitingly or convincingly as Deborah Grabien's ingenious JP Kinkaid mysteries. Her storylines keep you guessing up to the end. I've met these people, and her inventive characters and background details are authentically 'right', down to the last plectrum. I loved Rock & Roll Never Forgets and she's done it again with While My Guitar Gently Weeps--a brilliant marriage of backstage skullduggery and suspense that draws you right in. Rock On, JP!

-- Julian Dawson, recording artist and author of the upcoming Definitive Biography of Nicky Hopkins, The World's Greatest Session Man

Certainly, it's the rare music-inspired crime novel that nails both the passion of music and the deft characterization and tight plotting required by a solid mystery, but in her second JP Kinkaid Mystery, the author has managed something quite rare in the genre: She's created rock musicians who are credible human beings and not randy, coke-snorting cartoons.

- Kevin Burton Smith, Mystery Scene Magazine