Chosen as one of the Best Mysteries of 2003 by the American Library Journal…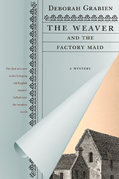 When Ringan Laine, architectural expert, folklorist and leading light of the English folk music scene, is stiffed for a home restoration fee, he's offered a home to placate him. Ringan accepts, thus becoming the owner of Lumbe's, an 18th century cottage on the Somerset estate of Albert Wychsale, baron and owner of Wychsale House, just outside the ancient town of Glastonbury. What neither Ringan nor his ladyfriend, theatrical director Penelope Wintercraft-Hawkes, realizes at first is that they're not the only tenants of Lumbe's. There's an uninvited resident, a beautiful young woman with a tendency to appear and disappear at odd, inconvenient times.
They haven't been at Lumbe's one day before they find that there's more to the place than meets the eye. Penny hears music, a distant singing voice. She becomes sensitive to scenes from the past. And less than two days is required to clue them in to the fact that they've got not one ghost, but two; the lovely lady in the cottage seems to have a companion, caught forever in the property's ancient tithe barn.
It takes all the intuition, dedication and courage that master folklorist and expert researcher Ringan can muster to not only track down who their unwelcome guests are, but how to finally lay them to rest.
THE WEAVER AND THE FACTORY MAID is the introductory book in a planned series. Each novel will share the title with a well-known standard of traditional British folk music, and each will interweave the plot of the song with the plot of the ghost story.
Powell's.com | Amazon.com | ABE.com | WalMart
"'The Weaver and the Factory Maid' is nominally about music and ghosts, but what this mystery has in even greater abundance is heart and soul. It is charming, in all senses of the word, but also a meditation on love and eternity and all the lives that have been lived, for good or ill, in fields and cottages far from History's main roads."
– Tad Williams, author of War of the Flowers

"Filled with chills and intrigue, with dread and compassion, and it's set in a cozy place that's utterly disquieting. And she builds the kind of sophisticated suspense that surrounds and embraces us to make our minds spin and the hair on the back of our neck rise in this enchanted tale." [more]
– the Boston Globe

"Pastoral warmth and sunny prose from Grabien (Plainsong) entertain.
– Kirkus Reviews
"Filled with charm, personality, and wit, this is the first entry in an intriguing new series featuring the ghosts of characters in old English ballads. Strongly recommended."
– Library Journal

"Effectively mixes the ghost story with the contemporary drama. Nicely incorporating period details and background on folk music, this involving tale will appeal especially to ghost-story fans."
– Booklist

"If there's such a thing as a ghost story that's serious as well as cozy, "The Weaver and the Factory Maid" is it. It reminds us in its form of the 1942 classic "The Uninvited"; atmospheric and charmingly told."
– the Denver Post

"Grabien writes beautifully and makes full use of the Glastonbury mystique. Her characters are fully realized and immediately pull you into their story. HIGHLY RECOMMENDED."
– Sally Powers, "I Love A Mystery"