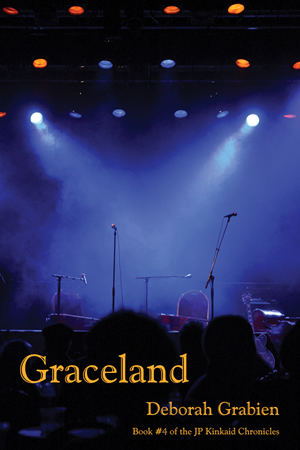 Order from Amazon! Publishing date:21 April, 2011 from Plus One Press
When JP Kinkaid is asked by the Rock and Roll Hall of Fame nominating committee to suggest an inductee under the "Early Influences" category, he has no hesitation in naming his childhood idol, delta bluesman Farris "Bulldog" Moody. Bulldog, alive and living in the southern Ohio town of Ofagoula, meets with JP – and the two form a deep and immediate bond. With the help of music historian and fellow heart patient Chester Kobel, JP prepares the speech that will officially enshrine Bulldog in the Hall of Fame.
But when Ches dies during his morning jog outside the Hall in Cleveland, JP begins to realise that something is very wrong. That impression is confirmed by Bree's mother, surgeon Miranda Godwin; she knew Ches, knew his medical history, and believes that there is no reason for Ches to have died.
A possible reason surfaces almost at once: Ches has made some cryptic notes about a biography of Bulldog, and the notes he's left don't match the story Bulldog himself insists are the truth. And JP must swallow his dislike of Patrick Ormand, and ask him to find the truth, not only of Bulldog's own life, but of Ches Kobel's death.
Last modified on 2012-01-31 06:53:28 GMT. 0 comments. Top.

"JP Kinkaid and his bandmates, friends and colleagues seem oddly familiar – but not from anybody else's fiction. The rockers and bluesmen Deborah Grabien depicts are instantly recognisable because I've been dealing with characters exactly like them for my entire working life. From the lush-life backdrops of megahuge rock dudes to the hard-scrabble lives of blues patriarchs who never got the paydays they earned so many times over, this is how rock really rolls. Trust me on this – I was there too (and you know what they said? Some of it was TRUE!) So was Deborah Grabien. Read Graceland … She's saved you the best seat in the house."

– Charles Shaar Murray, author of Crosstown Traffic: Jimi Hendrix and Postwar Pop and Boogie Man: The Adventures of John Lee Hooker in the American Twentieth Century

Publishers Weekly

"Fans will welcome Grabien's fourth mystery featuring British session guitarist JP Kinkaid…Grabien is particularly good on the early blues players and their continuing influence–and she handles Kinkaid's multiple sclerosis with sensitivity and insight."

Library Journal

"A compelling story about truth and long-buried secrets, written as if JP were talking to you personally. Rock musicians are our royalty, and Grabien shows us how the onstage magic happens. Not just for mystery readers, this has appeal for boomers reflecting on their life stories."