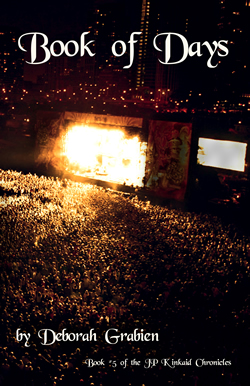 The release of Blacklight's double CD, Book of Days, looks like business as usual; the band plans its usual relaxed tour, this time asking Bombardiers keyboard ace Tony Mancuso to join them. No one can predict what happens next: the CD goes platinum, generating a huge hit and the need for a very different tour.
At first, everything seems fine. Bree gets to have her closest friend, Tony's wife Katia, along. And Blacklight founding member Luke Hedley, after eighteen years of being a widower, has fallen in love and remarried, gaining a stepdaughter in the process.
It takes a while before JP realises something very dark is going on: a string of deaths, following nights when the band played. The pattern is the same every time: early morning, far away from the band and the venue, but obviously connected to the tour; every victim had something to do with the band or the previous night's gig.
Things come to a head when a longtime member of the Blacklight's security staff is killed. They call on Patrick Ormand to take his place and solve the mystery, but finding out the reason behind the deaths may be a lot easier than healing the wounds those deaths have caused.
Last modified on 2016-09-03 05:58:55 GMT. 0 comments. Top.

Publishers Weekly

"Grabien's fifth JP Kinkaid book captures both the excitement and the incredible effort that goes into making a major music tour a success. Brilliant descriptions of making music."

Booklist

"As well as weaving in further backstory on JP's loving relationship with his wife and his ongoing battle with MS, Grabien treats music fans to a backstage look at an aging, wealthy rock band that has immense resources at its disposal. Another satisfying entry in a series that is as much about music as it is about mystery."