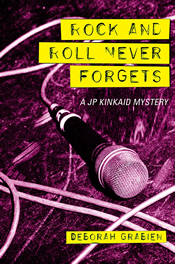 Order from Amazon
Take one middle-aged rock and roll guitarist, two women, and a sold-out North American tour. Add one ruthless tabloid biographer, digging up dirt. The result?
Can be murder.
John "JP" Kinkaid, guitarist for Hall of Fame rock band Blacklight, has a few issues. There are the two women in his life: Bree, his fiercely private partner of twenty-five years, who he fell in love with while she was still a teenager, and Cilla, his long-estranged but still legal wife, whom he's never been able to completely let go of. There's his multiple sclerosis, a disease whose unpredictable nature complicates both his everyday life and his career.
As Blacklight gets ready for their North American tour, they learn that Perry Dillon, a muckraker specialising in sleazy unauthorized tell-all celebrity bios, is planning a biography of Blacklight. When JP sits down with Dillon, he quickly realises that Dillon is digging deep, uncovering secrets that could potentially blow Blacklight apart, and destroy JP's relationship with Bree.
Blacklight opens their tour at Madison Square Garden, to thunderous applause. But while Blacklight is rocking the house, someone is backstage, committing murder in JP's personal dressing room. And as NYPD Homicide Detective Patrick Ormand takes charge of a murder that's front-page news for every media outlet in America, JP begins to understand that Ormand's prime suspect is Bree.
Rock & Roll Never Forgets, the first Kinkaid Chronicle, shows the reader a superstar's world, through his own eyes. JP Kinkaid provides an all-access backstage pass to the way rockers live, work, and love.
Rock and Roll Never Forgets Reviews
Last modified on 2012-01-31 06:53:28 GMT. 0 comments. Top.

Grabien, Deborah. Rock and Roll Never Forgets: A JP Kinkaid Mystery. Thomas Dunne Bks: St. Martin's. Jul. 2008. c.278p. ISBN 978-0-312-37999-5. $24.95. M

When pseudobiographer Perry Dillon begins an unauthorized biography of the British rock group Blacklight, JP Kinkaid, who is the band's guitarist, fears that all of his and life partner Bree Godwin's secrets will be exposed. Then, during the opening of their American tour at Madison Square Garden, Dillon is murdered in Kinkaid's dressing room, and Bree becomes the first person of interest. While illustrating the behind-the-scenes business of a rock band in this series opener, musician/writer/cook Grabien, who also pens the "Haunted Ballad" series (Cruel Sister), offers a window into the life and health of a person with multiple sclerosis (read: Kinkaid). Even better, the author shows the humanity, team work, and loyalty that keep a supermusical phenomenon together. For all mystery readers who love rock'n'roll.

""Grabien lets JP tell this story in the first person, and his voice is an engaging one. Rock and Roll Never Forgets is promising and entertaining — and fascinating for its look at life backstage."

– Richmond Times-Dispatch

"The straight-talking JP makes for an appealing narrator in this credibly plotted mystery, which is seasoned with plenty of interesting details on the machinations of an aging, enormously successful rock band."

– Booklist Reviews

"The author of the Haunted Ballad series comes up with something worlds apart but equally pleasing: a deft mystery nicely integrated with a fascinating backstage look at a rock star's life."

– Kirkus Reviews

"Grabien has written the first truly great look at what it's like to be part of a longstanding famous touring Rock and Roll band."

– Green Man Review

"…the rocking first of a new series…Grabien has created a down-to-earth hero who delivers a brisk upbeat message."

– Publishers Weekly

"Deborah Grabien adds murder and mystery to the sex, drugs and rock and roll equation."

-Simon Wood, author of We All Fall Down

"Rock & Roll Never Forgets provides "you had to be there" insight into the hearts and minds of aging rockers with engaging storytelling and grungy charm. Here's your all-access pass to a full-tilt, fun read—Rock on, Deborah Grabien!"

-Kathi Kamen Goldmark, author of And My Shoes Keep Walking Back to You and Founder, Rock Bottom Remainders